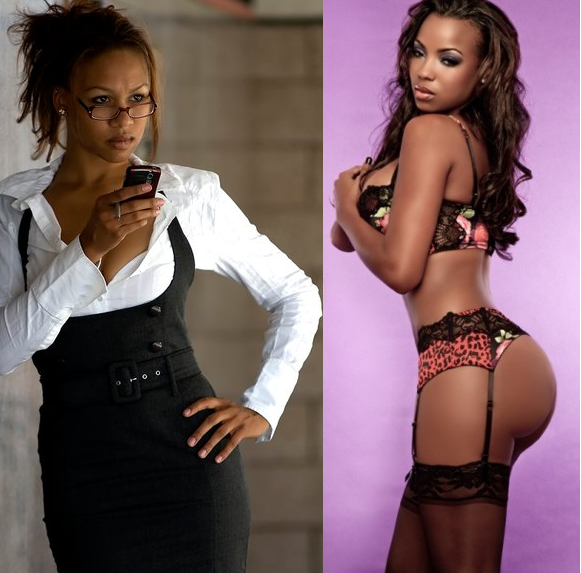 I thought the dark primitive mentality of men was a thing of the past; the idea that a man commits to the lady and when he needs to have a little freaky time he goes to his slut.  But can you blame him if he thinks this way? Our half wit society separates the freaks from the ladies and it's been doing this for thousands of years, starting with the queens and the courtesans. I'm so tired of this concept that women can't be sexual and lady like at the same time.
I've dated several assholes who think you can't be both. The relationships for me were hell. I end up hating them. I want a man that needs a woman who can rock a business suit, act like a lady, and at a moment's notice will suck the hell out of his dick.  The idea that a beautiful upscale woman doesn't want or need passionate sex is a myth.  Like all woman want to do is lie on our backs and use sex to make babies. No! We want the hell fucked out of us just like men. It 's just that most women prefer  blowing  their boyfriends in a committed relationship. I think this is very healthy. Why is it men need to be in a relationship with some fake ass Joan Cleaver woman, who acts like sex is not important? She is boring in bed and he has to creep out to the freak in the neighborhood to get is nasty on? I believe it's because of their mothers who never led on that they are really dick sucking whores in the bedroom with their fathers Those mothers who never discussed sex with their young boys or girls. Those boys grow up looking for that innocence in a wife. These boys believe that  the mother of their children and their faithful wives can't be freaks. A wholesome woman  would never have kinky fantasies. However, as they mature, they learn that sex is a big part of adulthood and marriage. That physical gratification is just as important as mental and emotional companionship.  Just because a woman is comfortable with her sexuality and knows what she wants, doesn't mean she's a whore who lacks morality. Only immature stick up their ass delusional folks would think that! These are the same people who are sneaky with weird perverse sexual fetishes. You've seen it on T.V. Some loud mouth preaching pastor or some goody two shoes politician gets caught in some weird sex act. Fucking phonies! Yeah I just got out  of a 3 year relationship with a lying sick pervert who could play Mr. Religious Goody Goody in public but in private wanted to fuck everything walking. I mean everybody, men and women; hell, probably dogs and cats too! That's what religion does, makes women feel guilty about swallowing  dick! And men feel guilty about needing their dicks swallowed. Sex is the most human act; and expressed in a committed loving relationship it's most beautiful. Look at all these catholic priests who deprive themselves of sex, but end up taking their desire out on innocent children. Sex deprivation leads to hell! Maybe they should add that to the bible. Maybe it should state in very plain words for the idiots conservatives of the world " It's allowed for a man and his wife to get kinky and nasty with each other"
Where are the men who want their women to be ladies in public and nasty vixen porn stars in the bedroom? That's what I want; The kind of men that like private strips shows and highway fellatio. I want to be in a relationship with a man that I can walk up to in the most elegant places and whisper "I want to blow you right now" and he still sees me as a lady.  It's not about how freaky you are, it's all about the appropriate times to be freaky.  I want a man who takes me to a 5 star restaurant and fingers me under the table! I stay away from  those asshole men who believe women aren't supposed to say anything sexually explicit! Or think love making can only occur in the bedroom. BORING! I want a man that is excited that he has a freak waiting at home who can ride a mean long thick one and cook a good meal! What's wrong with calling your man while he's at work and saying "I can't wait until you get home so you can eat this pussy" Or, before you go to work, your man gives you a little pickle tickle.
I want the next relationship to be full of sexual excitement and adventure. I want a man that makes me want to call up my girls and say " I'm in love with this nasty muthafucka! Ooh he's just soo nasty! I Iove it!" I'm so tired of boring men who play the conservative tight wad! SOOOO DULL! Yes I like my relationships private and personal but I like the sex to be uninhibited and wild! I want a man that is so kinky  that I never think about any other man ever. That's how you express possession, not by tantrums and harsh emotional outbursts. You become the M-A-N in the bedroom and you make your lady feel comfortable with releasing her inner whore. That's happiness. That's realistic!
Thoughtless
You think I'm emotionless.
With no self control or depth because of my ability to
extensively detail through pen and paper the sexuality between me and my lover.
But your suppositions are inconsiderate.
I understand your irrationalism
Society has fooled you
But be careful that you don't become like the majority
judgmental,frigid  and passionless.
I reject the spurious consensus
and hope for the sake of your life you do the same.
Passion is freedom
You think I'm immoral,
Lacking knowledge or awareness of life because I express my sexual imagination through seductive photographs and clever paragraphs
Because of this your verbal exploitation is relentless.
I feel sorry for your waste of time.
I rather contribute my energy to the fulfillment of my lover.
Be careful that you don't take your focus off your own bedroom.
I would hate for your lover to feel neglected.
Without physical gratification there is a lack of dedication to monogamy and betrayal seeps thru.
The worst upset to the heart is disloyalty