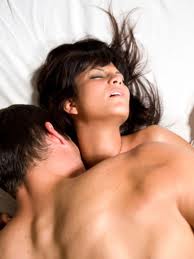 Wednesday night is ladies night part 1. I went to my favorite spot in Miami to have a drink and flirt international style. I happen to sit next to a group of women discussing their men problems. After two shots of Patron, I had to interrupt the conversation. Poor ladies, they've been searching for the perfect loves in this wild city. Me being me, I had to ask them about their sex lives.  I can't believe in this sexually driven city women are having my same issues. They can't find a man to satisfy their sex hunger without bullshit! Damn I underestimated the mental depth of Miami's women.  If only we could find men who could lay the pipe right and have a "decent career!" Sounds simple but honey it's more complicated than most would think.
I told them the funny story of an older Italian guy I use to date on South Beach. This guy was a fun time! We would waltz into every exclusive night club with no waiting and party all night. He was a gentleman and very sweet! However, with all his good qualities he couldn't last in bed 5 seconds. And the crazy part is, he hadn't even entered me yet. I would open my legs and he would rub up against my outer lips; and boom! It was over! Now I don't mind a "Mr. Quickie" as long as that was just the beginning of the evening; but this old man, would role over and go to sleep! He was through after 5 seconds. Now most girls wouldn't complain because of the luxuries they would enjoy with this type of man. But, I didn't drive down from Boca Raton after a long work week for nothing! Shit I can take myself out to dinner and walk into any hot spot! I wanted an unforgettable rendezvous! This was ri-goddaman-diculous!
After cracking up laughing, they could relate with stories of their own. That's fucked up and pathetic! One girl spilled how this fine beautiful man she dated could eat pussy really well but because of his coke addiction, could not get erect! Wtf? If it wasn't for her vibrator she would never get off. "Oh girly you have a Jack Rabbit too?" I responded. "Who doesn't?" They all answered.
By the end of the night, we all agreed that it's a shame to live in this beautiful beach kingdom but can not find "King Ding A Ling"
Waiting on a King
I want a freak
A nasty boy
A general in the army
declaring war on this pussy
He is determined
to own and white flag
that fat cat between my legs
He'll tame this kitty
making it purr
and walk on a tight leash
A boxer
a ring champion
ready to go
round for round
who can beat and eat  that shit
T.K.O.
Destroy that clit
sucking and biting it
Making me promise to behave
and give up all my horrible man dogging ways
A long glider
a super soaker
a  thick 12 inch slider
I wanna beg and scratch
for forgiveness
while he demands the answer to who's
pussy is this
A Fearless
warrior
chosen
to go in traitorous deserted lands
turning it into a flourishing wet lands
I want a man to fuck me so good
he drives me crazy
so delirious and
insane
that I want to have his baby
Cursing and screaming
only effects me
if my ass is in the air
and his pipe is drilling
deep.
So come on boy
my body is like honey
the taste is sweet
Make me fiend and want cha
If I let you get it
you better fuck me into a coma
I'm so tired of living and fantasizing an
unattainable dream
Trapped in this lonely  beach front tower
surrounded by cowards
loosing hope it seems
I'm just waiting to be captured and rescued
by a king