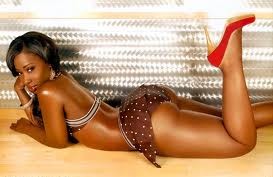 Lying in bed the other night, I was thinking about all the sex I'm not having. Yeah I get it every once in a while from my long distance loves but is it enough? Staring out the window at the midnight sky , I wondered are all the other girls in the city having hot passionate sex? Or, were they like me, not interested in so so climaxes; but savoring themselves for the best of the best? The older I get, I prefer men who know what a clitoris is and how to find one; especially mine.
I could go on for hours pondering about coulda woulda should I fucks. But, I decided to focus on my fantasies. Or better yet, positions that I haven't explored in years. I called up Mr. Chicago to discuss the oldies but goodies. His first question was "When was the last time you had a little back door action?"  I had to think about it for at least 10 minutes; honestly, I actually don't remember the last time I had anal sex. I mean it's not my favorite meal on the menu, but still apart of the selection.  He asked me if we could give it a try the next time he's in town. I don't think so.  You know that relationship category? Well,  anal fun definitely falls into it. I 'm down for casual freakiness; however, I just want to leave a part of me for a special somebody. And my ass is that part.
Mr. Chicago requested to hear a phone fantasy where my ass was the star. So I told him about the myth regarding how anal sex can make a woman's ass swell. I insisted that's why mine is so plump and round. We continued for a good hour talking about what he would do to my booty if I would be so gracious to give him chance. The behind the scenes conversation got me off but I still said hell no! Request denied! He could only use his fingers. That's it!
I'm non judgmental, but there is something weird about the ass. And honestly, it only feels good if a man is an expert. But if he's really good , it makes you wonder scary shit like who else has he fucked up the shooter? Or, the most important question is, was it a male or a female that he gained his expertise from? Yeah, it's exciting  fun but questionable.
Men love it; especially with a round ass like mine. I've turned down men who've gotten me naked and went straight for back door access like they have an obsessive ass fetish. My kegal muscles are still very tight, I exercise them everyday; so the man I'm with will just have to be happy with the cooch! From what I remember anal love can be pleasurable. I don't consider myself "old fashion"; I'll be up for it at the right time. It's just not something I'm interested in doing with just a casual fuck.