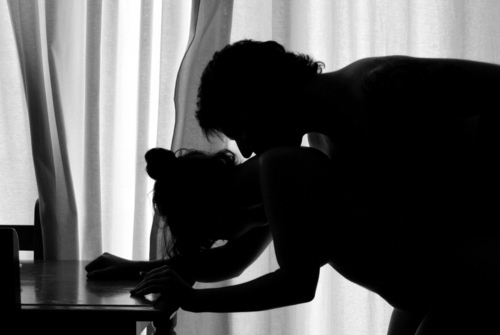 It was around three a.m.
He quietly unlocked the door
Finding his way to my bedroom in the darkness
he came to me.
The feeling of his lips on my neck awakens me from a deep sleep
His fingers slide under the covers then slip into my panties, entering me
slowly. Bracing myself, I tightly squeeze his wrist and bit my bottom lip as I
open my eyes.
He removes his fingers then takes me by the hand
He leads me out of the bedroom,  down the dark hallway to the dining room
He lights a candle, pulls out a chair, and takes a seat
There I stand awaiting his next move
He pulls me close and tells me to undress for him slowly
Each breath I take is more intense than the last
Finally I reach the bottom of the negligee
Take your time he commands
Exposing my breast as the sleeves fall off my shoulders
Holding the material around my waist I continue to stare into his eyes
Yes he says keep going, let it go
I exhale and release the gown down onto the floor
Good girl he says
Now turn around, bend over, and remove your panties he commands
I arch my back
My fingertips caress the back of my thighs
My ass tilted in the air, I began to slide my panties off the curves of my cheeks
My feet move further apart as the material moves down my thighs
falling to my ankles
Don't move he says
stay just like that
He moves in closer until his face buries between my legs
He licks my lips with the tip of his tongue
My hands wrapped around my ankles
My body shakes
His tongue reaches my clit
I close my eyes and concentrate to stay in  position
Barely able to continue standing my knees tremble
He stops and leans back into his chair
He turns me around
He is naked and hard
He pushes me down onto my knees
Open your mouth he commands
Good girl
He rubs his hardness all over my lips
then pushes the tip to the back of my throat
I suck him aggressively
No no not like that he insists
Slowly, romantically he continues
make love to my dick using your tongue and lips
I follow his request
He closes his eyes and tilts his head back
He swells, thick and long
My mouth wet and warm
he extends ready to release
but he begs me to stop
I don't want it this way he moans ……….not yet….
(To be continued)