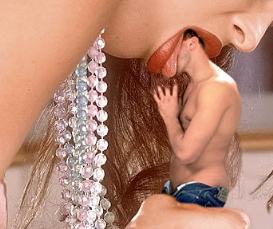 To some women, the worst thing that could happen during sex is when a man is so turned on that he only gets in 3 to 4 strokes before he cums. In 30 seconds flat, he has climaxed and this leaves the woman unsatisfied. This has happened to me a couple of times. Honestly, it doesn't make me think less of the man. The fact that he responds to me being wet and tight, makes me want him more. He just needs to learn how to control his orgasm. If I like him, I can teach him how to control his self.
When a man is heavily endowed sometimes he can't help it. He continuously hits the soft wet walls of the vagina, and that's the purpose of intercourse. But I like long and passionate sex sessions. I like different positions and slow hard strokes. It's difficult when a man looks at a woman's breast and ass tossing and turning in his arms; her sex faces and moans drive him sexually insane. There are some positions that will stimulate a man more than others. Before you know it, he explodes. He can practice ways to prolong his sex. First, I recommend for him to masturbate a lot. This helps his body get use to having a regular climax. Constant sex increases stamina. Or, a really fun way to help is to start off having oral sex in a 69 position. I prefer this as the first cum. Then the woman can continue to suck him until he is hard again. This doesn't make him look like Mr. Quickie. It's a smooth way of covering up the short imperfection. Even if he cums quick during intercourse, you can always get him hard again. I never had a problem in this department.
There a sex toys you can buy to help with the issue like a penis ring. It helps to control the blood flowing to the penis. Or, condoms with a numbing lubricate work as well. If a man is sexy with the right attributes there is no reason to dislike him for his short comings; especially when he has tasty equipment.  You just have to find ways to work around it. But honestly ladies, what's more gratifying than a man looking at your beautiful body and not being able to control his emotions? I like it! Makes me feel sexy when I lay back and open my legs and he gets hard as a rock.  Or, when he feels my body sucking him, he busts in no time. Longevity can be attained with the right techniques. Look at it as a positive ladies.  That means you are a beautiful sexy gorgeous bitch who can excite a man in seconds!  When a man doesn't get hard on or can't cum, then that's when you worry.  Who wants a dick that needs jumper cables to arouse? The worst dick is limp dick!