I will admit during sex I'm loud as hell. Especially when I'm on my back and my legs are close to my  ears. When a man is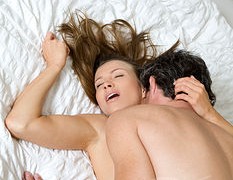 drilling as deep as he can go, how can you keep from screaming?  I love moaning loud, I think it intensifies the sex. Now it's not annoying screeching, its sounds of encouragement to motivate him to continue and go deeper.
If I'm making love to a man who turns me on and he is hitting my spots, I make the most passionate thunderous intense sounds; that shit gets really serious! I've notice that the men go crazy for it! The more I moan, the harder and stronger they become. I mix sexy phrases in with moaning like "fuck me!" "Yeah fuck that pussy!" Works like a charm.  It makes them want to come back for more! Now the next phrase I only use if I have major feelings, "This is your pussy! Fuck your pussy!" I recommend not saying that to the wrong man! He might want to kill your ass if he finds out it's not true!
I remember when a lover and I were in the shower making love. I will say he was heavily endowed because he had me in the air, with my legs wrapped around his waist, and he was going deep. I was so loud, I think I broke into song!  An  acappella Opera!
My favorite part is when he talks dirty! It really gets me freaky. O my goodness I'll scream so loud, I'll awake  the heavens. The neighbor's ears don't stand a chance! In fact, I've had a few knock on my door! I just apologize "I'm sorry I was fucking and it got out of control!"
There's power in sexual communication. I like for a man to feel accomplished if he makes me achieve a supreme orgasm.
The Influence of Sound
Invade me
Aggressively push through me
Extend boldly
Firm and rigid
Forcing your way
Right to the heart of me
And in return
I promise
I will serenade you with
Moans and sighs
Elevating so loudly
That they influence the persistence and strength of your strokes
Your endurance and method deserves praise my love
And I  will awaken the heavens with screams of your name.
Your instrument conducts harmony from my lips as it engorges within my throat
I am yours
You are the muse inspiring my song
Seduced by your movement in rhythm
I'm Dangerously in love