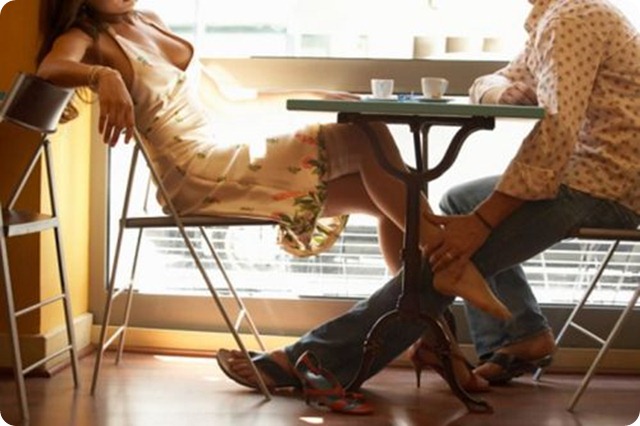 Is it just me, or do other women like to get off in public? The other night, after I dropped my roommate off,  I met up with a guy friend for a 3am breakfast.  He proceeded to take off my panties, open my legs under the table, and use his hands to make me climax. I enjoyed every minute of it. You would think it would've been awkward being that we were in a diner. But it was kind of empty. When I cum really hard I'm loud.  Yet, no one noticed or seemed  to hear me.  Funny the power of two fingers! It was spontaneous and sexy. A great way to start the day. I decided to write a little story inspired by the experience.
The Diner on 54TH
I'm not really hungry she said to him
They entered around 3 a.m.
He enjoyed early mornings out
It was quiet and allay
Far from the hustle and bustle of the congested city
They chose to sit at the counter so that nothing could keep him from touching her.
Except for them, the place was vacant.
The temperature drop made her cling to him
This made his rise.
He loved to feel the soft texture of her inner thigh against his fingertips,
He pulled her closer as the tip of his tongue grazed her bottom lip
God you smell so good he said, as his nosed gently brushed under her chin ending up at the opening between her breasts.
"Good morning. What would you like to start with" interrupted the waitress.
Just coffee and a piece of peach cobbler for me
He said
And you madam?
Nothing for me she replied in a heavy breath
The waitress quickly returned with the coffee and pie
Then vanished into the kitchen
Now they were alone but
Still visible in the tall wide windows that faced the street
His left hand now grasping the back of her neck while two fingers of his right hand, were tracing the curve in her panties between her thighs.
Her embrace grew tighter
Closer
Her nails tearing into his brown leather coat, while his fingers run down the plunging neckline of her dress
exposing her nipple.
Face to face they stare into each others eyes
He smiles.
Her knees shaking, repositioning farther apart
His fingers infringe her panties. Teasing her bare skin
Then firmly invading her
Her body flinches as she sighs with shock
She releases a moan with every breath
His fingers pick up the pace
She closes her eyes
As he kisses her cheek and then her ear
Are you cuming he whispers
Yes ….she answers as another moan escapes
How deep do you want me to go he asked
Deep she replies
Take it all and
Cum for me he demands
Yes baby cum for me he demands again
Her leg clinching the back of the barstool
Still undisturbed by passer bys or the kitchen attendant
They continue
Faster and harder he goes as she begs for more
Her hands unzipping his pants, she caresses him.
With her eyes remaining closed, she arches her back and tilts her head.
He takes her exposed breast into his mouth
This causes her to finally climax.
He removes his fingers, kisses them, then licks his lips
I bet this pie doesn't taste as good as you he laughs