Right now it's 1:30 am and I'm wide awake because I have no one to put me to sleep! I am dying for a discrete love affair. I'm very open about sex; however, my love life has been an open discussion and quite stressful. I need a private uncomplicated romance right now more than ever just to relax and rejuvenate me. I want a secret passionate encounter. Something like, we meet in a beautiful high rise hotel from time to time and we leave our inhibitions at the door. And, there isn't a lot of boring chit chat or ridiculous interrogations; Just constant moaning. A woman needs affection and peace.  The touch and caress of a man is motivation for me, it gives me something to look forward to after a long work week. I need to feel his naked body on top of mine and his hands and mouth all over me. A 69 position is mandatory! The taste of the right man is intoxicating and required! I have to ride a man every now and then to get some of my aggression out. It's a necessity for me to experience mind blowing orgasms. Just a 100%drama and stress free man who fucks the shit out of me!
I want it to be just between him and me. I like secret dirty text messages during the day; it makes me smile. I want spontaneous lunchtime meetings for a quick sexual connection. There has to be mystery between us. I don't need to know everything going on in his life or I don't desire to meet his friends. The friendship will be better if kept easy and simple but filled with passion.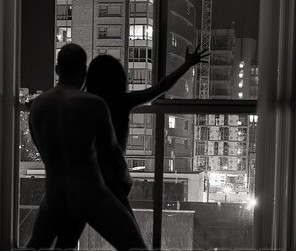 He'll text me with the time and place; and he'll request things like the outfit he wants me to wear or the game we are playing. Like he'll meet me in a dark Miami club and he'll insist I wear a short dress with no underwear. His instructions will be for me to go out on the crowded dance floor and wait for him. He will sneak up from behind in the darkness; grab me around the waist while his two fingers enter me from behind. And as we sway to the loud music, I climax hard and unnoticed! Or, we'll meet in a restaurant during  lunch. I'll sit at the counter, giving no eye contact like I don't know him. I'll get up and go to the bathroom and he'll follow me in. He'll get down on his knees in the bathroom stall, take off my panties, bend me over the sink, and fuck me. Maybe, a matinee movie where we'll take oral sex turns and then I'll ride him backwards. The possibilities are endless.
During the day, I'll be sitting at my desk daydreaming of what's to come. The things he does to me will cause flashbacks at the most inappropriate times like during business meetings. When I have my weekly dinner with Jonathan or my late night conversation with Janet, I'll anxiously spill all the nasty details. I know they won't tell. They appreciate a freaky saga!
On those nights we don't meet, he might call while I lie in the middle of my bed, telling me to pretend my hands are his. His voice whispers in my ear dirty thoughts as I pleasure myself; giving me a reason to relax and fall asleep. Each day I'll spend anticipating the next invitation.
My Secret Lover
I want to feel again
I want to crave and imagine every time I whisper your name
I want each hour of my life to be dedicated to thoughts of you
I see it so vividly…
As the dawn breaks,you awaken to us making love
the straddle and glide of my body taking all of  you
Or,
The softness of my lips kissing your thighs as you open  your eyes
and no one knows
During the day when we're apart
I anticipate your call
I find my hiding place
My hands are yours
without touching
we make love
and no one knows
As the sun rests behind the horizon,
I receive your message and direction.
I am rushing just to give myself to you
I turn the key and you're there waiting
Soon I'm laying under you
My legs open to your command
The breeze of the ocean fills the room
The candles flicker
Intensely
We make love
I close my eyes to peace
Finally
That is us….
Perfectly,
No one knows