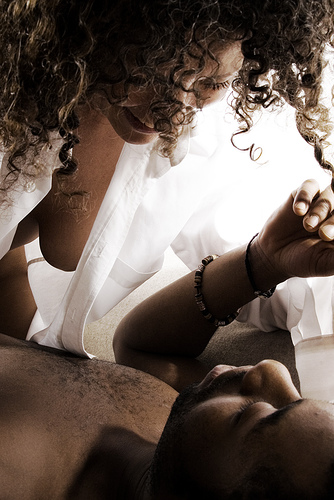 I never thought I would be happy in a relationship. In fact, I had given up hope that I would meet a man that would understand what I wanted. But when I met the king, he did everything right to keep me continuously falling in love with him. His technique was simple, he treated me like just his lady; and that's all he expected out of me. He understood I needed a man who gave me a stress free life for once. He didn't want me to be his counselor and listen to all his life problems, his mama and nurturer, his personal maid and chef (even though I didn't mind that), He didn't expect me to act all fake and conservative, He didn't want me to be a friend to all his ex- girlfriends; and he didn't bring unnecessary drama into our lives. In fact, I never heard about his previous relationships at all. So I didn't feel the need to dig into my past anymore either.
All he wanted me to do was be his lover, the right way. And in return, I was proud to call him my man. I wanted to take care of him and love him. I enjoyed having one position in his life. He kept me sexually attracted to him and full of energy; sometimes, less his more. Because he wasn't demanding, with a mandatory list of what a woman needs to do, he got what he wanted. Isn't that funny, that he actually got the best out of me by doing the total opposite of what most men think they should do? He genuinely loved me and had no undermining motives.
Because he was such a man in our relationship, I wanted to make sure I was doing everything to keep him happy. Every night I would massage his back. And I felt like it was my duty, my pleasure, to make love to him 7 days a week. He appreciated and encouraged my freak.  I wanted to keep myself looking good and sexy. And I loved how he treated my girlfriends. He loved flirting and taking care of them. However, he always made me feel that his heart was mine.
I didn't mind him taking the lead role because I never felt like he didn't consider what was in my best interest. I listened to him and made sure he knew his voice was heard. I had his back and he had mine. I was sincerely happy because he was totally different than what I was used to. He was really a king that was looking for a queen not a servant. The mistakes he made were small.  Honestly, I never was mad long. We had so much fun traveling to the keys for getaway weekends. I was in a young adult's relationship with a man who wanted to see me enjoy my life. I wasn't with a man who had mother issues and was looking for a replacement for her. He left all his baggage at the door and started fresh with our relationship. I appreciate you king. All the good in you has changed my life and made me into a better woman.
At First I didn't Love You
Created by xCloudxGirlx

At first I didn't love you
As of now I'm sure I do
This feeling feels so different
But it's cause their with you
The one before you hurt me
The one that didn't care
He made my life uneasy
He made my life unfair
But I can see you're different
And I can see you're true
There's just something in your spirit
That just keeps shining through
I don't know what it is
And I don't know what to do
My feelings all are funny
And I think I'm quite confused
Because every time I see your face
Or even when I don't
There always seems to be a trace
Of you every where I go
Sara thinks it's funny
And Chris does think this too
And me I think  its interesting
That I fell in love with you