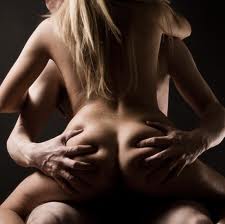 I'm involved with a jealous, aggressive man. This is a new experience for me. My girl, advised me, if I wanted to have the best sex of my life then I should aggravate his angry side. It seems to be the theme of the blogs this week. So I conference called some of my other girlfriends to hear their opinions on provoking a man's jealousy. These three are all in serious relationships, and they all agreed their men fuck better when they think another man is invading their territory. They encouraged me to try it and see what happens. Women!  I usually don't play these types of games. I don't like anger and hostility. But, I was kind of curious.
His sex is fantastic when he is in a good mood, so I could only imagine his feisty side.  I was guaranteed his angry sex is like walking on the moon. So I called the expert to devise the perfect plan to extract the beast within. We talked for two hours about the scenario. I was confident that I could carry out the plan exactly. She can piss a man of like no other. I've seen it, so I knew it would work.
I  invited him to go dancing with me and a couple of friends. What he didn't know is my ex boyfriend who I still fuck from time to time D.J.s at the club we were going to. My ex  likes to approach me when I'm with a date so it was a perfect plot.  I never wear panties when I go out. I don't see the point when they're coming off anyways. But I was instructed that I had to wear a cheap pair of black underwear accompanied by a bra. Seems like a lot for me, but it was  for him to have more to tear off during his rage. Once the security alerted me that he was on his way up, I took a deep breath and eased into character. My Iphone buzzing like crazy with text messages "You can do this girl, Game on!"
As soon as we entered into the club, I pushed through the crowd reaching the D.J. both. My ex cued right on time. He came down to greet me with an inappropriate hug which I continued with a kiss on the cheek. Being that my lover is Italian, it doesn't take much for him to get heated. But, he was trying to play it cool.  So I decided to raise the stakes, I bought him a bottle of  patron  and then  I started to ignore him while talking and dancing with my ex and his friends. Yeah, that's was the straw that broke the camel's back. He started shoving through the crowd quickly. Next thing I knew, he grabbed my arm and forced me out of the club yelling "It's time to go! What the fuck do you think you're doing?" I acted surprised like I didn't have a clue of what was going on.
We argued the entire time in the cab. Drunk and dazed, he chased me through the lobby and into the elevator. The plan was in effect. The elevator ride couldn't get any better. He ripped my panties as expected. I wondered if the security camera was recording while he was licking my pussy. Of course I had to play like I didn't want it. I put up a fight, I screamed no as much as possible until we reached my floor. I told him he couldn't come in, yeah right! I tried to close the door; he forced his way in and grabbed me by the hair forcing me down on the floor. This man is like a movie fantasy. He made me ride him as he held  my neck and put his fingers in my mouth. Every thing he said was like a script in a heated hot movie scene. "Yeah bitch, you like it!" Yeah ride that dick!" Damn! Where does he get the energy to keep going for hours? Wow! What can I  say except angry sex is the shit! I've been missing out! I called to tell the girls the next morning once he left. Their response was "I told you so!" I guess jealousy in a man is sexy.