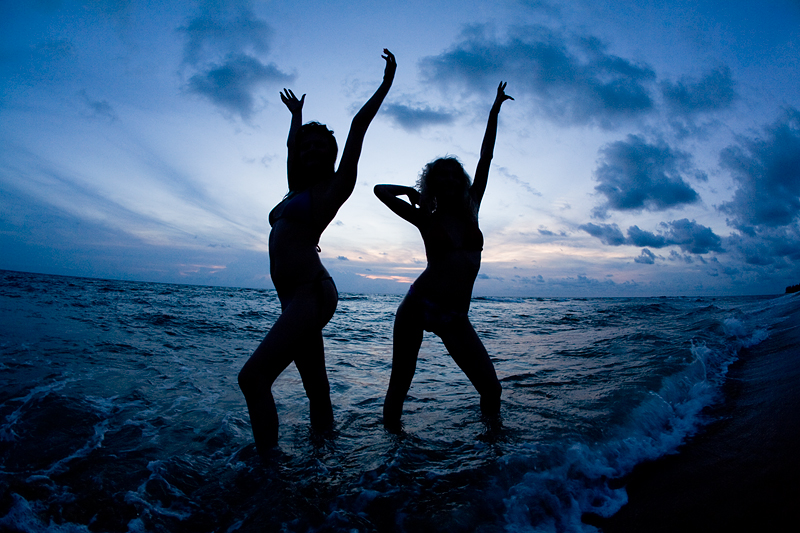 A couple of weekends ago, the girls and I hopped a plane heading south to Florida to meet up with Emmanuelle  for the weekend. After all the drama in her life lately, my girl needed vacation time. I definitely wanted to escape the cold for a while. It was hard leaving my new green-eyed lover behind but my girls come first. Besides, I knew he would be waiting on me when I returned. May, Sandra, Amy, Christina, and I couldn't wait to have another wild adventure with Emmanuelle. Our parties are always fun, carefree, and explicit!
Once we landed in Miami, it was time for the naughty debauchery to begin. I could tell by the excitement on E's face that she needed us to bring out that inner freak she had been suppressing for the last few months. The 6 of us piled in her jeep and headed further south to the keys to meet our secret friend that rented a private bungalow especially for the LIBERATED SLUT girls. Anytime we call him, he goes far and beyond to accommodate us. His exotic private parties are wild; and he enjoyed having six ladies all to himself for the next two days.  We decided to stop off at an Islamorada resort first to  have a couple of drinks before continuing to the hideaway estate.
As soon as we arrived at the bungalow, he was waiting with dinner and Patron. While May, Christina, and Amy sat down to eat; Sandra, Emmanuelle, and I grabbed the liquor and headed out to the water. We stripped down naked, took a shot of patron, and jumped in. The warm water felt amazing on my bare skin. Tropical Florida weather was better than New York's cold frost. Emmanuelle and I double-teamed Sandra's young innocent body. The sensual water fondling was just the beginning of the erotic events of the weekend. Emmanuelle's freak was unleashed once again; and Sandra was her first victim. Omg! When she reads this, she is going to "feak out" literally! (Wink)
After our late night sex swim, the three of us returned to the house for dinner. I came up with this plan to post on Facebook that we were staying at a nearby resort so that some of our fans would not try to join in on our private party. You can never be too sure these days. Sexy words from sexy ladies can cause a man to desire and obsess. The night ended with all 3 of the single ladies heading to bed with our secret friend to make love; while May the married lady watched. May is allowed to watch and touch herself, but she can't join in. Emmanuelle and I get a kick out of watching her. Christina and Amy the sexiest couple ever, retreated to the guest bedroom for private time. But, for the remainder of the weekend, I insisted they joined us or at least let us watch.
The following morning, we decided to start the day with a foursome shower followed by a seaside breakfast. The remainder of the day was calm and relaxing as we laid on the beach together. The night ended with a hot passionate sex session on the warm sand.
I'm going to end this blog by saying the rest of weekend was pleasurable and filled with kinky behavior. I can't tell all the dirty details; I promised the girls I would keep some things secret. Sandra is now fully initiated. Thanks to our secret friend for another phenomenal adventure!