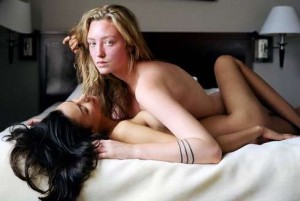 I've been so busy working lately that I haven't written a blog in a while. I haven't had time for my usual schedule of hot New York sex either. I've been substituting my kinky action with a little dirty talk with the girls and their boy toys. Like the other night Sandra came over and we Skyped Emmanuelle to talk about our favorite sex sessions. One of my best moments was during a ménage a trois when my girl and I decided to undress our male lover and slide to our knees for a little tag team fellatio.
The thing about our group is we don't like our sex to be like a cheap porno. We are more into the romantic passionate exploration of sex. We always agree that even if we are not in love that we prefer making love. Our lovers have to be the kind of men that enjoy romance. It may sound crazy; most would ask what is romance without love? I would answer "still romance!" Somehow, it works for us. Passionate sex is the more memorable than fucking. Believe it or not the men we make love to seem to be extremely pleasured by the experience.
Back to the session of fellatio, We both have serious feelings for this particular lover. He is very sweet and treats us well. So anytime that we get together the passion between all three of us is incredible. We both love pleasing him. We started by a hot threesome kiss. He likes to watch both of us undress at the same time. Then, she and I removed all his cloths and used our tongues to slide down his amazingly fit body; ending up on our knees.
He was so hard and she is so beautiful to me. I enjoy touching her breast and her passionate kisses. The most erotic part is when she and I kiss use our tongues while his hard shaft is in the middle. You should hear his moans when he feels each wet curve of  our tongues as they collide together. We are in perfect rhythm as she takes him in her mouth; and I kiss the base and then his thighs. Can you tell who is inspiring the profound expression in my language? Yeah my girl E is intense as hell!
Sharing is Caring, and we passed him over and over. It's like we used our mouths to make love to him. Soon he's ready to enter us. Hours of emotional sex ends the night. Perfect as usual when we get together. Sometimes sharing memories are better than the actual performance.
Midnight Reminiscing
If no one knows, I'm sure to tell them
Where ever seas may flow and where ever I may sail them
I will savor the taste of you
Every drop,
I devour it all
Never wasteful.
To be given a chance to experience a God like you I am forever grateful. -EM