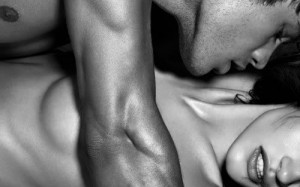 You would think that a woman that's strong and dominate in public, would be controlling in the bedroom like a dominatrix.  On the contrary; I think a woman who is aggressive and stern about her life can be quite submissive in the bedroom. Actually I myself prefer it that way.
I hate when men talk down to women or treat us like we are just barefoot and pregnant idiots. When it comes to business and matters of long term love, the world gives a woman no choice but to become a bitch. She has to mark her territory in masculine driven corporate America. She has to be hard and cold to the back stabbing and vicious competitive rat race of the office. And when dating, it's kind of the same thing. A woman has to interview her potential candidates making sure they're  not psychos, drug addicts, leeches or just plain losers. The new modern day society doesn't give us women that many options. Especially if we've decided that we're not going to settle for a fixer upper man. It's dangerous now a days for us girls to wear our emotions on our sleeves. We have to be cautious of all the crazies who are looking for a new fool. We won't allow men to run over us any longer. Or, will they dictate our lives. But, we'll allow them to dictate our positions in private.
The bedroom can still be a stress free zone. It can give a woman a chance to let her guard down. She can shed her hard careless shell and revert back to that soft, beautiful, feminine lady that she keeps suppressed all day long.  I prefer male dominance in private intimate situations. You know that traditional saying "a lady in the streets and a freak in the bedroom?" Well I changed it a bit "an emotionless bitch in the streets and a submissive freak in the bedroom." It's like the universe finds its balance when a man and woman are alone and naked; she exposes her vulnerability and he exercises his power. My girls and I agree that we like our hair pulled and our asses smacked! Yeah we can be some hard core independent women with swift feisty mouths. But, when it comes to our relationships, we like our men to be sexual beast. If a man wants to keep an independent and aggressive woman happy, he better act like a cave man in the sack. He has to be the kind of man to claim his pussy and take charge!
Most people think missionary is boring and dull. A lot of derogatory sayings about women include us laying on our backs with our legs open. But it's still the best position. A man laying all his weight on top of woman as she relaxes and gives her body to him; her legs are wide open and he can see the expressions on her face as she begins to have a massive orgasm. Sometimes after a long day of work and taking care of the home, a woman needs to be man handled. And it's necessary to make him feel needed. Like his sex is what she depends on to keep her going all through the busy day.
Now don't get me wrong, a woman needs to take charge and please her man sometimes. She has to show him she's still attracted to him by jumping his ass every now and then. Also, he's going to have those tired days when he needs to lay back and be pleasured. When he works all day and deals with his own stress, she has to give just like she gets.
Us women in today's world have to be strong, powerful, and courageous; just not all the time!
Under Part 2
The expressions on her face
Alone
Deepened his strokes
Her soft voice whispering
I need you
I need this
Made him firmly push into her
With all his strength
He was all she ever wanted
To experience
Sexual
Physical
Love
And she loved nothing more than giving herself to her man
It was like her body was designed perfectly to suit him
The moisture and constriction were Ideal
Bit by bit contracting and extracting
He longed for no one else
This made him always give his best
Harder he thrusts as his body controls hers
This makes her cry out
Fuck me!
Yeah fuck me!
Moving from side to side
teasing her
then forcing himself deeper inside
as she leaves passion marks
"Who is it?" he asks"
She responds
"Yours" without hesitation
"Are you mine?" his asks
"Always" she responds
He is throbbing intensely
Releasing all of his energy
He makes her feel all his love
Her body swallows all of him
Now they are one, descending into heaven.
She knew she was safe
Protected
Loved
She knew that's where she belonged
There UNDER him