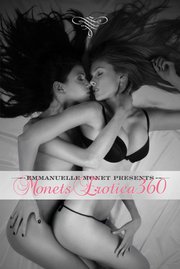 If something hot and passionate is what you are looking for, I suggest you check out the erotic writings of Emmanuelle Monet. The fall of 2012, the first book of the Erotica 360 series will be released. As one of the most anticipated releases of next year, the book will surely make history in the field of modern erotic poetry.
Erotica 360 is a series that compiles all of her poems that express the passions and desires of the heart. Her writings are expressed artistically and articulately in order for the readers to feel every single line with genuine feelings. Monet's poems will surely inspire you to love and be loved. You will be moved by the passion of the human spirit. And, there is nothing more human than desire and love. Her modern and reality based erotic poems are the epitome of present day romance. Every lyric is cleverly versed with the beauty of eroticism.
I wanna be kissed by you / Touched by you/ Wanted by you / Seduced by you / Fucked by you / Sexually obsessed because of you / Contained and consumed emotionally / possessed by you / Until I'm lost infinitely in your world / Please exemplify your power over me /Proving by action your stronger I will bow down surrendering / A queen imprisoned by you / An uncontrollable wildness tamed by you / Your stroke will be my drug / And your dick will be my god / I will inhale all of you / A dedicated addict / Most appreciative servant…
Watch out for the release of Emmanuelle Monet Presents Erotica 360. Mark 2012 in your calendars as the date where poetry takes its reign again!