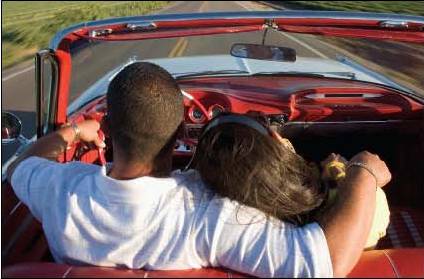 Ladies, have ever look across at your man while riding down the highway and realized how sexy and fine he is.? And looking at that fine ass man reminds you how in love you are. You start getting really horny. Next thing you know you're sliding closer and closer to him. Kissing his neck while unzipping his pants, you start easing your way down. Soon,  you have a mouth full and he can barely keep his mind on the road. Mmhmm! Happens to the best of us!
The damn highways are not safe~! That's because women like me are distractions. We are kinky and free spirited. We like to play dirty sex games with our mates while driving down a busy freeway. It's a woman job to make sure her man is happy and satisfied. She sometimes has to take matters in to her own hands or mouth even if it's reckless behavior while in a motor vehicle. If he is the kind of man deserving of oral pleasure, please don't limit yourself to the bedroom. Keep the romance and excitement alive! Make sure he knows that he can still get you hot and bothered. And the thought of that dick still makes you just as hungry as it did when you first met.  You want to keep him in love and whipped? Then you better unbuckle that seat belt and crawl under that steering wheel. It's like  magic. You might not have time to stop or there might not be a private place. You'll  just have to make due.
A disclosure: Every man cannot handle the road safely and get a blow job! Men you need to practice. You want your lady to show you love, than you better perfect multi-tasking! Head is nothing to loose your life over….hmmm well some is I guess. But, let's not contribute to anyone's death. Keep your eyes steady and focused. Release moans and groans excessively and as loud as possible. If you hold them in,  your eyes will roll in the back of your head and you will surely swerve into the next lane! Talk dirty encouraging her to continue, but DON'T LOOK DOWN! I'm not trying to instigate a wreck! I'm only promoting safe sex! Girls keep extra napkins around. There will be a mess. And what lady wants every one knowing her business once she's reached her destination? Remember freak in the bedroom or car but sweetheart in public!
Girlies, highway playtime is just another way you can express  love and appreciation for that special man in your life. It's fun and risky. It's a guaranteed way into his heart and to keep him from wondering away from home.
Under( part 1)
The expressions on her face
alone
Every time her lips released him
was enough to procure his mind
She always wanted to convey her affection
her appreciation for him
She took her time and gave her undivided attention
Slow her motion to make sure she savored every taste of him
Feelings of her tongue along the curves
that was accompanied by the gentle firm grip of her mouth and the guide of her hands
sent an unmanageable vibration through his body
like a well orchestrated symphony.
This gave her persistence to continue
His hands wrapped around her long tresses
Controlled the range of intensity
Harder
Slower
Faster
Softer
His soul traveled through dimensions of ecstasy
The precision she demonstrated
The care
This was just the beginning…