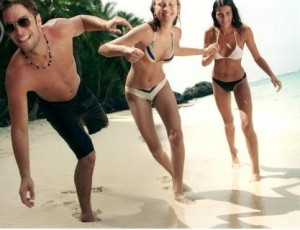 In a New York minute, I'll catch a plan to another kinky adventure with my hot green- eyed lover. Most of the time, my girls will join in on our sexcapades. It's always wild nights of passion and lovemaking from coast to coast. Sandra and I flew to Chicago  to SLUT UP the Chi-town nightlife. I thought Emmanuelle was loud when she cums. She definitely has competition.The cool windy city was a great escape from the usual Manhattan scene. But only for a weekend.
Whether it's Chicago, New York, Tropical Florida, or star studded Los Angeles; we keep it sexy! We are always welcomed with open arms . From  city to city, we enjoy lavish shopping, wild parties, and handsome men as entertainment.This summer will go down in history, as the year of the outrageous SLUT! We have top secret activities planned. The L.S. girls are famous world-wide. But 2012, will make us infamous wink!
Lately I'm realizing how special our small exclusive group is. Until last year's launch of LIBERATEDSLUT, I never noticed how many sexually oppressed women there are in the world. I thought every woman was proud of her coochie behavior. I couldn't see myself or any women that I'm friends with being uncomfortable with expressing our love of orgasms. Every night, I have a conversation about the pleasures of cunnilingus and fellatio. What woman in her right mind would be embarrassed about a sexy threesome or a mouth filling 69? It's time for women to step out of the shadows and be proud of their sexuality. Sex is the most powerful expression of love. Honestly, wtf would we be without it?
I'm so happy that my girls and I can share our sexual experiences together. We do have a lot of exciting adventures. We live the life that most dream of and will never be brave enough to pursue. There's never a dull moment when we meet up. The crazy thing is, the men we allow into our group, really do fall in love with us. We usually can't get rid of them. I guess their tired of the same ole boring, complaining, conservative women they've been dating. I can call up any hot guy in my phone, and he will jump at the chance to wisk me and the girls away to any exotic location we choose. He knows that it'll be just sunshine, passion, dancing and good laughs. Oh, and an occasional joint or two. We are not into judging or gossiping, that's not our style! What happens on SLUT island, stays on SLUT island! Unless, we decide it'll make a hot blog.
When I'm older, I'll look back on my life and remember the amazing women and the wild times we shared. I'll never regret a moment. We are the women that men long for. We are the free spirits that rule their fantasies. We are the fun girls!